Military License Plates
As of April 18, 2022, applications for military plates will only be processed by mail at SCDMV Headquarters in Blythewood. See application process below.
As of May 6, 2022, all newly issued military license plates will require an updated decal each year (similar to regular plates). For more information, read the Military Plates news article.
Available Military License Plates
You can view all of the available military license plates at the SCDMV Plate Gallery.
Use the Refine Search function to select "Military" to see only military license plates.
Qualifying for a Military License Plate
Qualifying active or prior service members may receive a maximum of three military plates per eligible plate type, and only one plate per vehicle.
Applicants must provide necessary official military documentation. These documents may include:
DD-214
NGB Form 22
Official order
A "Twenty Year Letter" from a Military Reserve Component
Veterans Identification Card (VIC)
Military Plate Benefits and Registration Fees
A new parking privilege has been added to certain plates that will allow free parking in metered areas in SC. These benefits do not apply to military license plates issued before May 6, 2022.
The design printed in the top right section of the license plate will indicate that the plate is eligible for free metered parking in SC. See example below.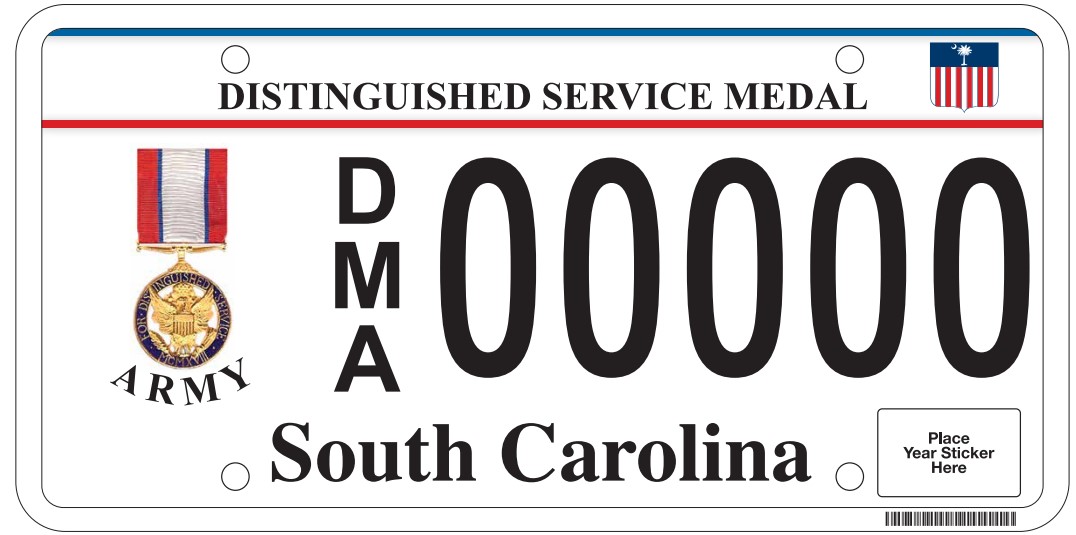 Military customers looking to buy a military plate can find the general requirements and privileges of each plate below.
The Application for Military Plates (SCDMV Form MV-37) lists the requirements, benefits, and fees for each military license plate.
Permanent military plates are no longer issued. Permanent military plate holders are not required to surrender their current permanent plates and are grandfathered under the new requirements.
Permanent military license plates can be temporarily transferred to newly purchased vehicles at dealerships who sell to customers with these plate. Read the Dealer Connection for more information.
Applying for a Military License Plate
If you're interested in applying for a military plate, you must mail all of the following:
Mail the completed documents above, along with payment (if applicable) in the form of a check or money order, to the address below:
SCDMV
Plates
PO Box 1498
Blythewood, SC 29016-0038
SC Code of Laws - 56-3-14910 -56-3-14990